Integrate your knowledge with vLex to enhance your research.
Linking your own legal documents to a larger database, such as vLex, will provide you with helpful insights into your own work, and allow you to conduct your legal research faster. vLex's algorithms learn from your commonly cited sources and precedents, using this information to give you better insights.
You can search across your own documents on vLex, alongside millions of others and they will be enriched with links and annotations to the documents on vLex, allowing you a seamless research experience.
To get started, click
Connect your vLex,
and then
Next
on the homepage. Select your cloud storage service and agree to the
Terms of service↗
and the
Privacy policy↗
.
This will automatically open a new window where you can log in to your chosen service.
You might have to disable your pop-up blocker if you have one.
Use the checkboxes to select the folders you want to sync and then click
Done
.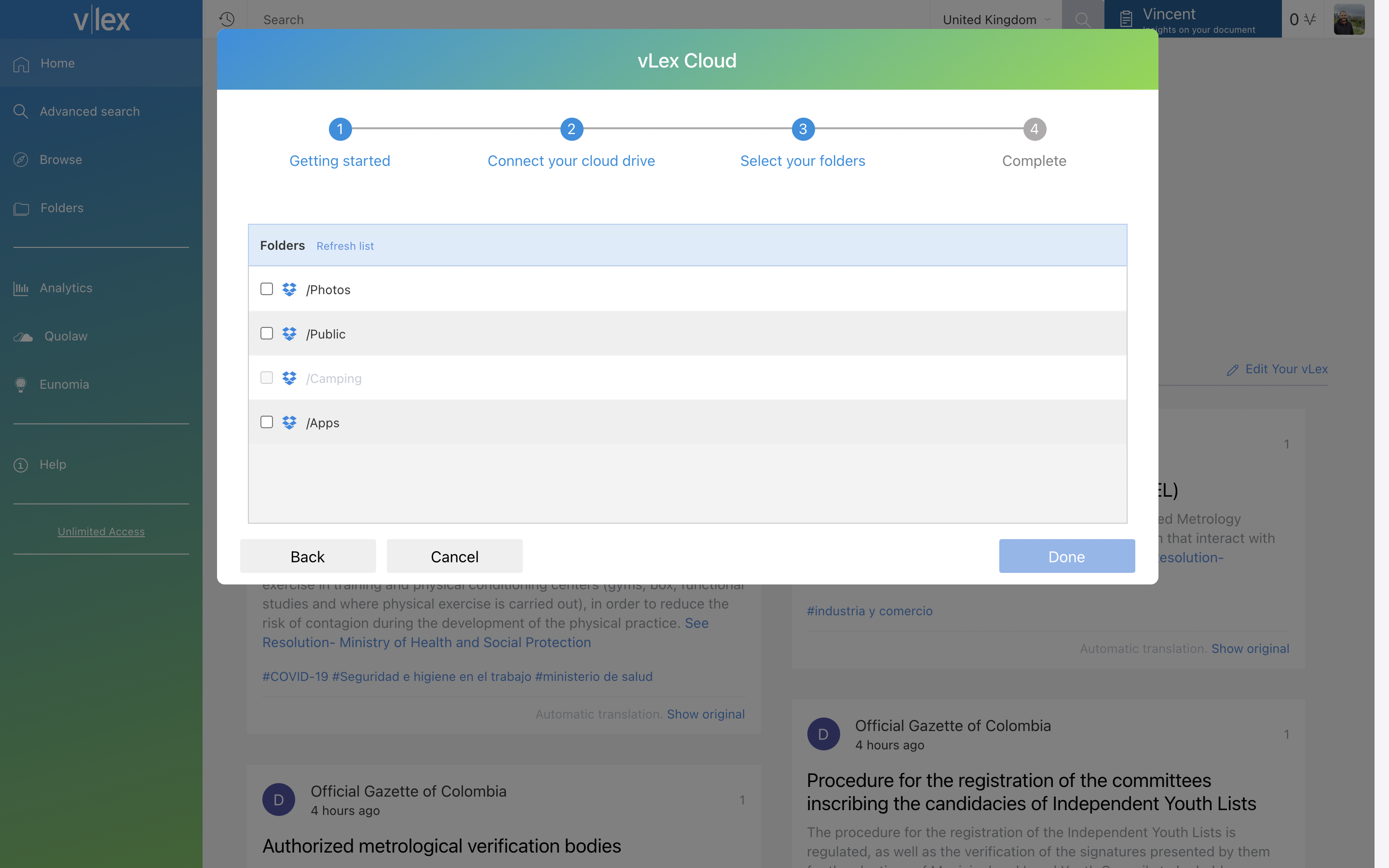 Give vLex some time to upload and analyse your documents. Depending on the number and size of your documents, this could take a while. The number of indexed documents will be visible on the vLex Cloud card on your
Home page
.
Only you and
the users that you explicitly authorise have the ability to access any documents you upload. Certain technical support engineers have the authority required to access the raw data stored in vLex Cloud. However, they will only access it after receiving explicit permission from you, and only while investigating a support or service related issue. Your access information to your cloud service is encrypted and deleted when you disconnect the service.
Where is vLex Cloud information stored?
All data is stored on Amazon Web Services. Amazon Web Services is certified ISO 27001: 2013 and is independently audited in compliance with SOC 1, SOC 2 and SOC 3 standards in accordance with the ISAE 3402 standard.
These services are running in AWS us-east-1, which is in North Virginia, USA.
In the vLex Cloud settings, you can disconnect your cloud service from vLex by using the toggle.
You can also amend your synced folders by checking or unchecking the boxes.