Create a research workflow
Utilise vLex and its integrations to improve the organisation of your legal research.
Everyone has different ideas on how research should be organised. Some people like having a notepad full of notes or sticky notes, others use software, and some use a combination of both.
Here are some ideas on how to include vLex organisational tools in your workflow.
Create a folder for each research project with the name of the client or a general area of law. You can then add any documents you are using with the
Add to folder
button. If you did not remember to add cases as you found them, you can go to your
History
next to the main search bar to see a list of the documents you have viewed, adding any that are relevant. You can add a document to several folders if it works for several cases.
Create nested folders to organise different sub-topics within your research.
Reference managers are great tools to organise citations for any type of research, while also helping when it is time to reference your work. These services keep the metadata of your citations, and you can choose the reference style you want it to use. For example, if you write an article for a publication that requires you to use the Author-Date citation system, but you are familiar with Non-superscripted Number, you can use the reference manager to change the formatting of the references quickly and easily.
To add a document to your reference manager, click the
Share
button.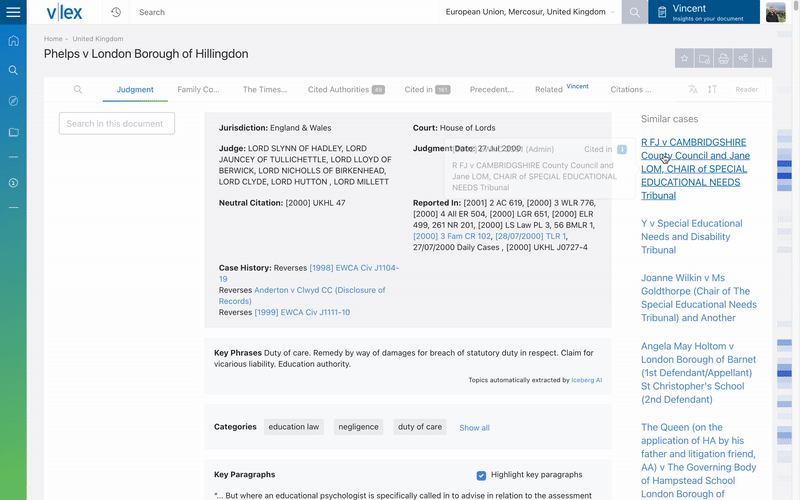 RefWorks

is a web-based reference manager. This allows vLex to send the metadata directly, rather than downloading a file. Selecting this option will open the RefWorks website in a different tab where you can import the citation.

RIS (Research Information Systems)

are bibliographic files that contain all the data used by reference managers, the most notable being

EndNote

. You can save these files and import them into any software that accepts them.
It is advisable to combine these reference managers with their Add-ins when using writing software, such as Microsoft Word. Use
vLex for Word
to check your writing for style and accuracy while simultaneously creating your references.
For a step-by-step guide on using this feature, read
Integrations
. If you are an admin user and want to know how to provide your organisation with these tools, read
Integrate vLex
.
Create a text document with citations for any and all documents that you often refer to. Use the
Link to page
or
ID vLex
information
you will find in the
Share
menu. You can use headings and subheadings to separate research topics.
Once you have created this document, sync it to the service using
vLex Cloud
. You will then have an interactive version of your reference list, which you can see on vLex, including links to all cited documents and treatment types.